The Payroll module is a comprehensive system allowing you to process payroll for different pay periods (Weekly, Bi-weekly, Monthly, etc.). You may break down your payroll expenses by Hours Codes (type of hours worked - Regular, Overtime, Holiday, Sick, etc.) and Distributions (for example, individually by Office or by Job Function - Administrative, Managerial, Marketing, Sales, etc.). The system handles processing for withholding all Federal and State taxes in addition to other types of taxes applicable to you - City, County, or other Local taxes. Also, you have the ability to set up other Deductions for Insurance, Retirement, Dues, etc. and may indicate in which pay periods you wish to deduct them. The system also has the ability to handle Workmen's Compensation by setting up codes for the different types of liabilities that are applicable to you. The ability to print multiple checks for an employee in a pay period is also included.
After setting up all the necessary master files, processing of Payroll each pay period consists of entering hours worked for each employee, calculating taxes, and printing checks. The Payroll module is integrated with our General Ledger module (to automatically post journal entries for payroll expenses and tax withholdings to the G/L TEMPORARY file), our Check Reconciliation module, and our Accounts Payable module (to set up invoices for taxes and other amounts deducted from employees' checks). Reports in the Payroll system include all master files, Input Audit, Gross Calculation, Deductions, Check Register, summary of hours worked, summary of General Ledger entries, Employee Earnings, Employee Year End, Federal and State Unemployment, and 941 information. Below, you will find screen shots and sample reports from this great product by Team Software, Inc. There's more details than can be shown in a few moments here ... call or email us for more info.
The Payroll module has the following features: Download FREE 30-day DEMO
1) process for different pay period intervals (Weekly, Bi-Monthly, Monthly)
2) recap the type of hours worked (regular, overtime, premium, etc.)
3) breakdown by user-defined Distributions (job function, branch, office, management level, etc.)
4) track employees' Vacation and Sick time
5) set up user-defined deductions (pension, savings, insurance, etc.) to be withheld on specified pay periods
6) set up graduated tax tables (or fixed tax rates) for federal, state, city, county or local taxes
7) print employer's tax withholdings checks
8) print computer checks and/or enter data from manual payroll checks
9) set up costs for Federal and State Unemployment taxes and also Workmen's Compensation and Public Liability costs
10) set up Multipliers for Overtime rates and Shift Differential amounts
11) print both State and Federal unemployment reports along with a 941 report
12) print W-2 forms
13) automated posting of P/R expenses to our General Ledger module
14) automated posting of P/R deductions to our Accounts Payable module
15) automated posting of both computer and manual checks to our Check Reconciliation module
16) construction of your own reports from data in the P/R files through our Report Generator module *
17) integration of P/R data to a word processor or spreadsheet through our Report Generator module *
18) ability to batch-process multiple P/R options through our AutoPilot module (very useful for Month-End procedures) *
* purchased separately
P/R - Payroll is included in our accounting software, free phone help for installation, and 3 months free phone support ... all for only $2,000.00. And NO monthly maintenance or support fees!  After the first 3 months, if you need a few hours per year of assistance, you are billed at our low hourly rate (currently only $72.00/hour)! This may mean only a few dollars per YEAR instead of a few hundred dollars per MONTH!
On all screens, a light-blue-colored field allows you to Peform A Search to find the data.
The Timecard program appears as follows: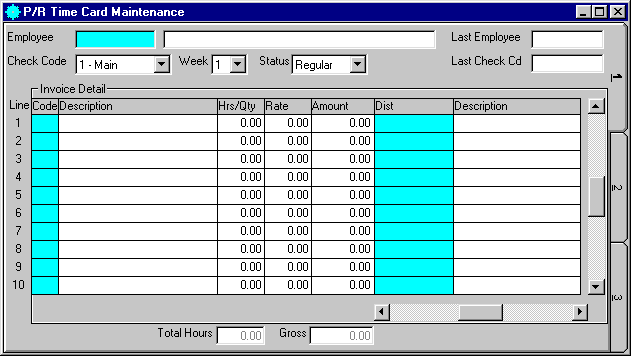 You may override employee deductions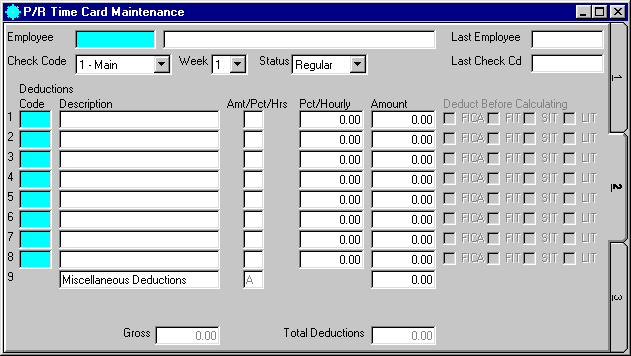 You can see tax breakdowns and net pay for verification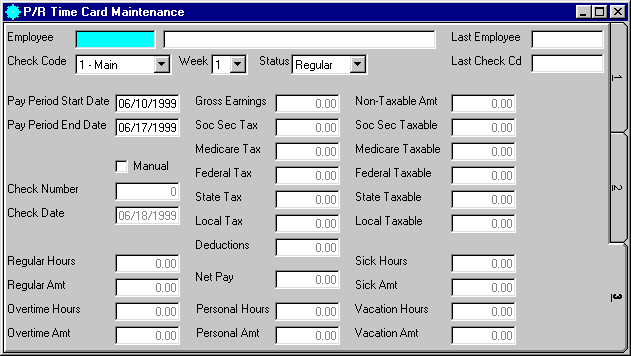 You can add manual check information, if necessary.