The Handheld Interface module incorporates entry of invoices, cash receipts, pick sheets, invoices, customer report, and balance report on handheld computers and printers. The Handheld Interface module integrates information to and from the Delivery Route Sales module. Below, you will find screen shots and sample invoices and reports from this great product by Team Software, Inc. There's more details than can be shown in a few moments here ... call or email us for more info.
| | |
| --- | --- |
| | You may watch a video about the Team Handheld System |
The Handheld Interface module has the following features:
1) customer report that shows which customers are on your route for that day
2) invoice entry that allows sales, exchanges, no-charge, and returns
3) pick sheet report that prints the items the customer ordered
4) handles multiple payment methods
5) prints open invoices on the pick sheet and invoices
6) allows for multiple copies of reports, pick sheets, and invoices
7) integrates into our Delivery Route Sales module *
* purchased separately
The system comes with free phone help for installation, and 6 months free phone support ... all for as low as $499.99 (See our Cost Calculator for more accurate pricing for your situation). And NO monthly maintenance or support fees!  After the first 6 months, if you need a few hours per year of assistance, you are billed at our low hourly rate (currently only $72.00/hour)! This may mean only a few dollars per YEAR instead of a few hundred dollars per MONTH!
A sample Sales Entry screen: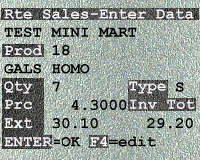 A sample Invoice: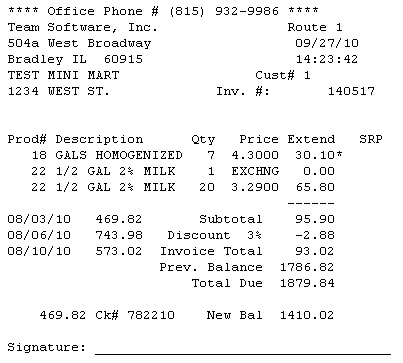 Here is a sample Balance Report: