The Accounts Receivable module maintains Customer files, collects information posted from the Billing and Inventory module, and allows you to generate customer statements, open invoice and aging reports, assess finance charges, and modify customer information. This module also allows you to setup multiple terms codes, ship via methods, and tax codes. You may also use this module to setup and assign different salespeople for your customers. The Accounts Receivable module integrates information to the General Ledger and Check Reconciliation modules. Below, you will find screen shots and sample reports from this great product by Team Software, Inc. There's more details than can be shown in a few moments here ... call or email us for more info.
The Accounts Receivable module has the following features: Download FREE 30-day DEMO
1) handle both Open Item and Balance Forward Customer types
2) print Customer Statements for all, or selected, customers
3) base aging of receivables on any time span you wish
4) post A/R income/receipts to the General Ledger module
5) construct your own reports from data in the A/R files through our Report Generator module *
6) integrate A/R data to a word processor or spreadsheet through our Report Generator module *
7) ability to batch-process multiple A/R options through our AutoPilot module (very useful for Month-End procedures) *
* purchased separately
A/R - Accounts Receivable is included in our accounting software, free phone help for installation, and 3 months free phone support ... all for only $2,000.00. And NO monthly maintenance or support fees!  After the first 3 months, if you need a few hours per year of assistance, you are billed at our low hourly rate (currently only $68.00/hour)! This may mean only a few dollars per YEAR instead of a few hundred dollars per MONTH!
On all screens, a light-blue-colored field allows you to Peform A Search to find the data.
The Customer Maintenance program contains general information about each customer ...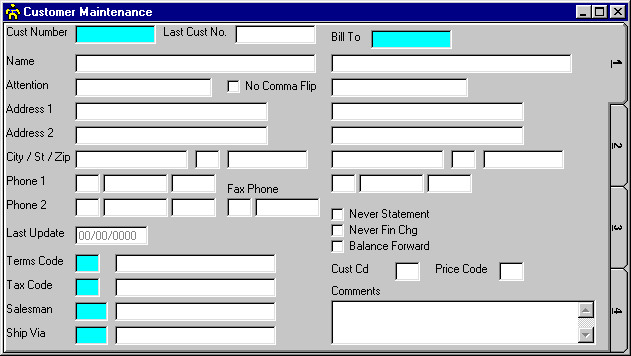 and can also track all purchase and payment data.